Notes:
These mushrooms grow in profusion on fallen sticks in the Booyong reserve each year. Mainly in early summer, but at any wet time in summer. The purple and the yellow species often grow together, sometimes on the same stick.
Comments
Add Comment
"Pileus 9-20 mm broad, convex at first with margin inrolled, becoming planoconvex to plane with age and with the margin unevenly uplifted, somewhat undulate and slightly lobed; surface moist, but soon dry and fading, glabrous, finely matted fibrillose with a lens, rugulose plicate to sulcate striate nearly to the disc, opaque, shades of purple (vinaceous lilac, argyle purple, light vinaceous purple) at first, soon fading to purplish lilac (purplish lilac, vinaceous lilac, light pinkish lilac, pale vinaceous lilac; near 261. l. gy. p R; 252. p. p Pk); context thin (1 mm at disc), concolorous with faded surface; odor pungent and unpleasant (reported as smelling of garlic, radish, sauerkraut, or gunpowder); taste unpleasant. Lamellae adnate or adnexed to an expanded stipe apex, close to subdistant, narrow (1 mm), rarely forked, reddish purple with somewhat more red than pileus (vinaceous lilac, light vinaceous lilac), edges even and concolorous with the faces. Stipe 20-50 mm long, 1-2.5 mm thick, equal or slightly tapering upwards, or slightly enlarged towards the base, somewhat pliant to tough, not brittle; surface colored purplish (vinaceous lilac, light pinkish lilac, pale vinaceous lilac) above, more sordid below (light vinaceous fawn, vinaceous buff, vinaceous drab), covered with a whitish pubescence overall, with a matted fibrillose base; interior hollow…"
"Habit, habitat, and distribution: Scattered, gregarious to subcespitose on leaf litter and humus. Known from Florida west to Louisiana and north to Massachusetts."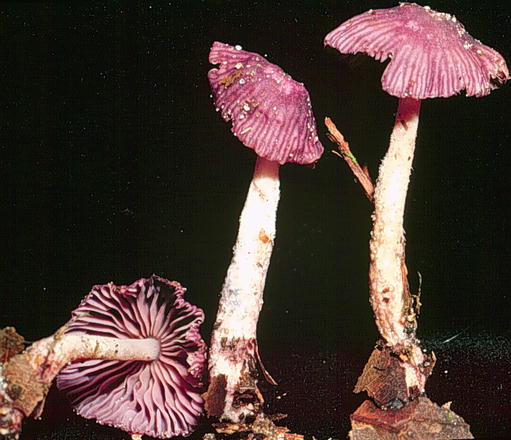 No reference I can find includes Australia in the known distribution.
Now THAT'S one gorgeous mushroom!
beautiful..
Created: 2015-04-29 20:51:07 CDT (-0400)
Last modified: 2015-05-11 18:40:30 CDT (-0400)
Viewed: 125 times, last viewed: 2017-06-20 03:12:57 CDT (-0400)
Show Log