Description status: Unreviewed
Taxonomic Classification:
General Description:
Hohenbuehelia petaloides was rightfully named after an Austrian mycologist/botinist/statesmen, Ludwig Samuel Joseph David Alexander von Hohenbühel Heufler (1817-1885). Due to the fan-like appearance of this species, it is more droningly known as the Leaf-like Oyster.
H. petaloides is a wood decay fungi and obtains nitrogen by catching nematodes with its sticky hyphae. The nematode violently lashes about as a fly would if trapped in spider web. The quick movements only brings the doomed nematode closer to its death.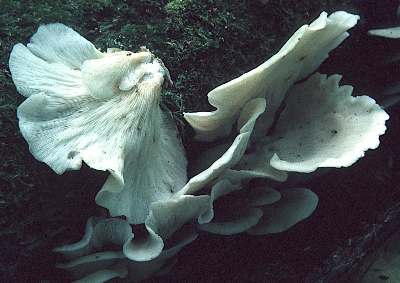 Diagnostic Description:
Gills: decurrent, narrow, crowded, grayish and or whitish, slightly fringed
Stalk: stout, hairy, whitish
Spore Print: white
Spores: range 7-9 X 4-5 micro;m elliptic, smooth, inamyloid
Cap: 2.5-7.5 cm wide, fan-shaped,slightly hairy to smooth, grayish brown or tan to brown, sometimes white.
Distribution:
Commonly found June-September <—non-region specific
Habitat:
This fungi is found on wood or wood chips and grows solitary.
Look Alikes:
H. petaloides was first placed in the Pleurotus genus due to its morphology. Microscopically, this fungus has a distinct gelatinous layer. It looks similar to Pleurotus ostreatus (pictured below).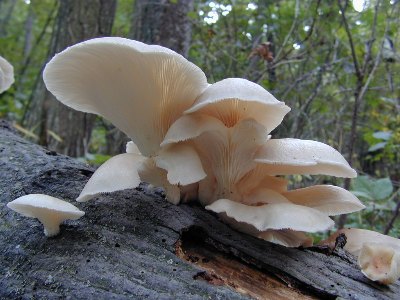 References:
Bessette, A.E., Bessette, A.R., and Fischer, D.W. Mushrooms of Northeastern North America.(1997). Syracuse, NY. Syracuse University Press, 2002.
Volk, T.(2000). Hohenbuehelia petaloides, a wood decay fungus that eats nematodes, Tom Volk's Fungus of the Month for August 2000. Retrieved Dec. 2008 from TomVolkFungi.
Notes:
"Common Name: Shoehorn Oyster Mushroom"
Description author: Garryn Skurulsky (Request Authorship Credit)
Description editors: Nathan Wilson, IntoTheFlames
Created: 2008-12-12 19:40:09 PST (-0800) by Garryn Skurulsky (Garryn)
Last modified: 2011-10-25 17:10:03 PDT (-0700) by IntoTheFlames
Viewed: 939 times, last viewed: 2019-01-17 01:43:08 PST (-0800)