Comments
Add Comment
yellow
there are recurring discrepancies between Volk's and Kuo's ideas of when and where yellow occurs on Armillaria fruiting bodies, as well as the extent to which yellow coloration is even taxonomically significant:
---
In the Northeast, the major morphological character that distinguishes [Armillaria sinapina] ??from the others is the "presence of a golden yellow universal veil that covers young fruiting bodies and later leaves remnants consisting of yellow warts or lumps of tissue on the cap, a yellow fibrous annulus, and many patches of fibers on the stipe" (Bérubé & Dessureault, 1988). However, we have not observed this yellow coloration on western specimens. Spore size 8.2-10 X 5.9-8 µm.
-http://botit.botany.wisc.edu/toms_fungi/armkey.html#calv
[The corresponding image for A. sinapina in Volk's key: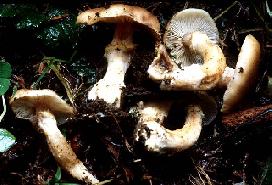 shows absolutely no yellow whatsoever. this observation is the most likely candidate I've seen yet for an Armillaria encased in a yellow universal veil.]
---
Cap: 2-6 cm; convex to broadly convex or flat in age; dry or sticky; tan to pinkish brown or tawny brown; usually with fine yellowish hairs; often with white partial veil material on the margin…
…Stem: 5-10 cm long; .5-1 cm. thick at apex; with a swollen base that often stains yellow; whitish; with a yellow ring zone; attached to black rhizomorphs.
-http://www.mushroomexpert.com/armillaria_gallica.html
[These qualities not mentioned by Volk in his description of A. gallica or its "twin," A. calvascens]
---
-http://www.mushroomexpert.com/armillaria_mellea.html
[Yellow coloration in the partial veil not mentioned, despite being prominently pictured. Neither mentioned nor pictured in Volk's key.]
---
"I don't think yelow really can be used for speciation of most Armillaria species."
-Tom Volk Observation 112216