User's votes are weighted by their contribution to the site (log10 contribution). In addition, the user who created the observation gets an extra vote.
Vote
Score
Weight
Users
I'd Call It That
3.0
0.00
0
Promising
2.0
0.00
0
Could Be
1.0
5.98
1
(shroomydan)
Doubtful
-1.0
0.00
0
Not Likely
-2.0
0.00
0
As If!
-3.0
0.00
0

---

Overall Score
sum(score * weight) /
(total weight + 1)
0.86
28.56%
User's votes are weighted by their contribution to the site (log10 contribution). In addition, the user who created the observation gets an extra vote.
Vote
Score
Weight
Users
I'd Call It That
3.0
0.00
0
Promising
2.0
5.74
1
(Alan Rockefeller)
Could Be
1.0
5.98
1
(shroomydan)
Doubtful
-1.0
0.00
0
Not Likely
-2.0
0.00
0
As If!
-3.0
0.00
0

---

Overall Score
sum(score * weight) /
(total weight + 1)
1.37
45.75%
Comments
Add Comment
worth scoping
the paper seems to indicate that this may be a seldom-encountered species, and that it can be reliably differentiated from Gloeophyllum by microcharacters.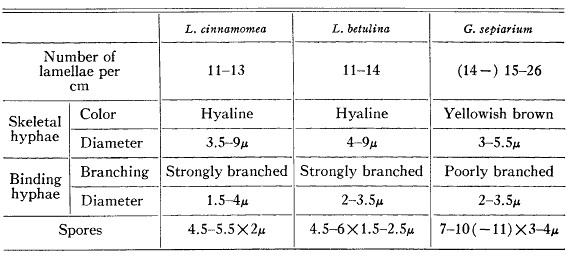 there is nothing but overlap between the measurements for L. betulina and L. cinnamomea, but the obvious difference in overall color should make distinguishing the two instant and foolproof. then again, as mentioned at the end of the Mycologia paper, L. cinnamomea could just be a color variant of L. betulina, which wouldn't be too surprising given the nearly identical microcharacters. MycoBank already reflects this opinion, but doesn't say who was reponsible for the synonymization, when it took place, or why.
Orange Lenzites
A Google search for "orange lenzites" returned a paper noted above which argues that Lenzites cinnamomea exists only in Fries' drawings.
Maria Eneyda Pacheco Kauffmann Fidalgo
Mycologia
Vol. 50, No. 5 (Sep. – Oct., 1958), pp. 753-756
MO currently has the name deprecated in favor of Lenzites betulina, which, in my opinion, is a different kind of mushroom from the orange ones shown here.
Created: 2013-11-10 11:42:26 CST (-0600)
Last modified: 2013-11-10 14:32:53 CST (-0600)
Viewed: 36 times, last viewed: 2017-06-17 13:48:36 CDT (-0500)
Show Log