Notes:
Interesting habitat. Young White Pine trees with Black Cherry, maple, and birch mixed in. The mushrooms grew from live and dead hardwoods. Looked to me like the parasitic fungus was helping to clear the way for coniferous forest to take over.
I created the name "Armillaria mellea group" because the multitude of different Armillaria species seem to fit into either the mellea group (ones with membraneous partial veil), or the gallica group (ones with fibrillose veil).
Comments
Add Comment
as luck would have it,
I met a member of the UC Davis Plant Pathology lab yesterday at the Albion four-university foray who specializes in Armillaria. He's clarified a few things for me, and has pledged to poke around MO sometime soon. Hopefully he can help assign one or more of our 11 NA species names (a number not expected to be exceeded anytime soon) to our many under-attended observations.
Looks like a good fit, Danny.
The name ostoyae is listed as a synonym for solidipes. Photos posted in comment section are certainly a good visual fit for my collection. Prominently scaly caps, brown on the annulus, and lack of yellow/green tones apparently help to separate the solidipes/gemina types from mellea.
Although the Honeys were the first type of wild mushroom that I learned, I have not ever taken the time to learn to apply the various species names. I just happily call them all "Puhpinkees", which is the name used by most of the local enthusiasts for all armillarias except A. tabescens. Some of the locals, though, use the names "Brownies" or "Late Ones" for what they consider to be a separate type(s).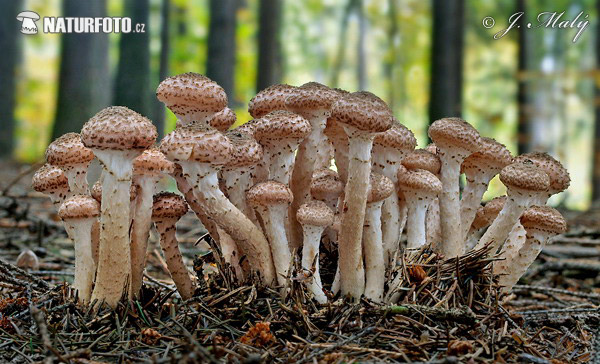 ---
---
I believe this may be your fungus.
Then again, A. gemina is said to be identical to A. solidipes in terms of both habitat and morphology (see http://botit.botany.wisc.edu/toms_fungi/armkey.html) where their distributions overlap, which is New Hampshire to Western North Carolina, according to the same source.